Submitted by nsscadmin on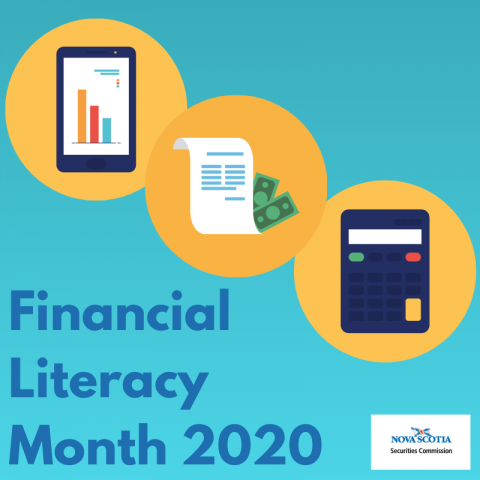 November is Financial Literacy Month across Canada. Financial literacy organizations will be running campaigns and programs coast to coast throughout the month and the Nova Scotia Securities Commission has some fun things planned.
Our regular Question of the Week blog post continues on Wednesday's throughout the month (except on November 11). Some of the topics we'll be taking a close look at in November include leverage, reverse stock splits and the RRSP Home Buyers' Plan.
Every Tuesday in November we're bringing back our popular #TerminologyTuesday feature to our Twitter feed @NSSCommission You'll find a brief definition of a common investing term and you can follow a link back to our website for more information on the topic.
In the middle of the month we'll be launching our latest investor education video to our YouTube Channel. Do you know how investments make money? You will once our new video launches on November 16. Subscribe to our YouTube channel to find out when we post new videos.
We'll also be sharing a ton of investor education content on our social channels, Twitter and LinkedIn. You'll find information on the warning signs of investment fraud, RESPs, time horizon, risk tolerance, registration, and more. Follow the hashtag #FLM2020 to find some great financial literacy content being shared this month.
Our Student Connections program will also be very busy throughout November. We're unable to visit schools this year, but were making virtual visits in November and will be talking to students from Prince Andrew High School, Dartmouth High School, C.P. Allen High School, NSCC Ivany Campus and more. If you'd like information on how the Commission can talk to your class please contact us.