The majority of young people in Nova Scotia aren't investing and have little knowledge about investing. In the latest Investor Index study conducted in 2017, it was found that only 36 per cent of those polled between the age of 18 and 24 had some form of investments. Even more troubling, the Index also found that 67 percent of those polled between 18 and 24 had a low knowledge of investments. Additonally, only six per cent had a high knowledge.
Having a low knowledge of investments and finances in general can be the beginning of a difficult financial path that could include poor money management, poorly managed investing or even falling victim tp investment fraud. Luckily, we're here to help. 
This page includes information on investing that young investors can use to gain a basic knowledge of investments to help assist is making informed investment decisions now and in the future. This includes information on what investing is and why it is important. The different types of basic investments and a primer on cryptocurrencies and initial coin offerings. We also delve into saving for post-secondary education, long-term and short-term investment savings, and advisers and robo-advisers.

Part One: What is investing?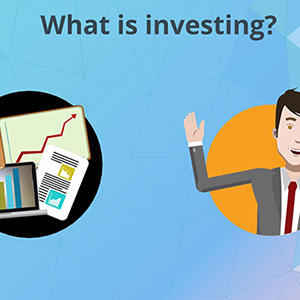 Part Two: Why should I invest?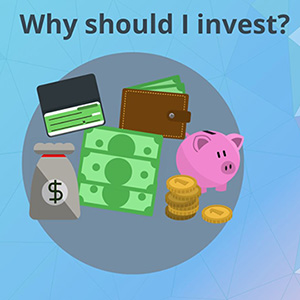 Part Three: All about RESPs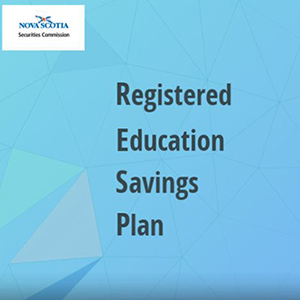 Why should I invest? What is investing anyway? If you're looking for the basics on investing and why it is important for your future and financial goals you'll find it here.

Now that you know what investing is and why it is important, where can you invest? This section plainly details some of the investments that are available to you.

Cryptocurrencies and Initial Coin Offerings are hot topics these days. Some people see them as the next big investment, while other sees them as risky speculation. From a regulation standpoint are they securities? Are they regulated and what are the risks? Learn more about crypto and ICOs and why you should be extremely cautious when considering them.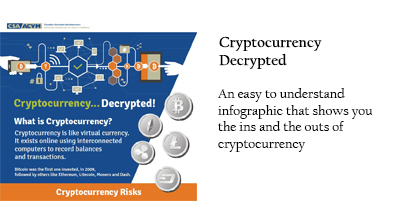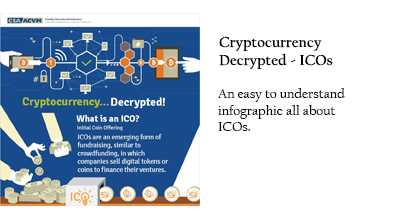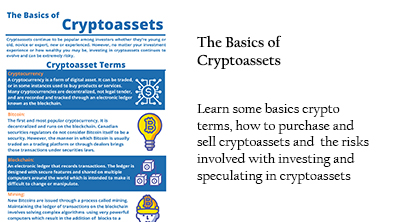 Cryptoassets Video Series:
Part 1 Crypto Terms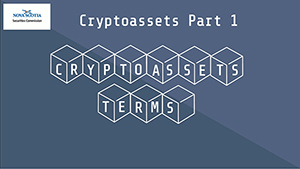 Part 2 Purchasing and Selling Cryptoassets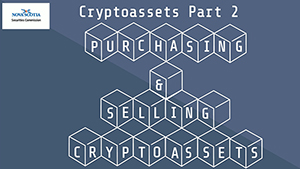 Part 3 Cryptoassets Risks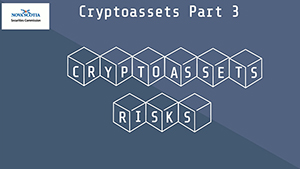 Are you saving for university or college? Maybe you're a parent of a newborn child or an older child wondering what your investment options are for their post-secondary education future.

If you're new to investing how are you going to manage your investments? Maybe you'll find an investment adviser. Maybe you'll go a different route and choose a robo-adviser to manage your funds. Learn what a registered adviser is, and why registration is important in the links below. You should also learn what a robo-adviser is to know what the best option is for you and your money.

What are you investing for? School? A car or some other large purchase in the future? Maybe you've already started to save for retirement. Knowing the difference between RRSP and TFSA accounts can help you direct your money and your savings correctly so it will be there and available when you need it.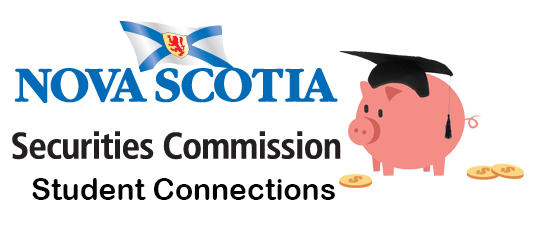 (Updated September, 2021)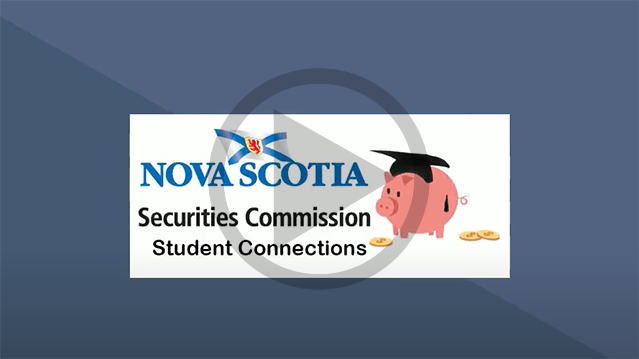 Last year despite the COVID-19 pandemic, the Nova Scotia Securities Commission virtually visited more schools and talked to more students than ever before. Thanks to Zoom, MS Teams and Google Classroom the Commission continued to deliver presentations on securities and informed investing to students across Nova Scotia. This year we hope to continue to expand our reach into more schools across the province and to reach more young people and student organizations.
We know due to COVID-19 the 2021-22 school year may continue to look different. We are looking forward to returning to classrooms and engaging with students face-to-face. However, until it is deemed safe to do so we will continue to be available virtually and deliver presentations online through whatever platform or program schools use anywhere in the province.
Students exiting post-secondary education are entering a new phase in their life with careers, money and a future ahead of them. This future could include a family, their first home, cars, and saving for their children's education and their own retirement. As life becomes real the need to invest also becomes real. So, why do they need to wait to learn about investing? Why can't a basis of basic investment knowledge be gained before it is time to use it instead of catching up on it later in life?
Investment information can be delivered to groups through presentations on several different topics, including but not limited to, An Introduction to the Nova Scotia Securities Commission, Informed Investing, and Securities Regulation. We are also able to present on more concise topics such as CEDIFs, Capital Raising and Investment Fraud and Scams.
If you are interested in one of these presentations or would like more information on what the Nova Scotia Securities Commission Student Connections program can offer you, your class, group or organization, please contact us.
Hero Unit:
Young Investor Hero Image