Submitted by nsscadmin on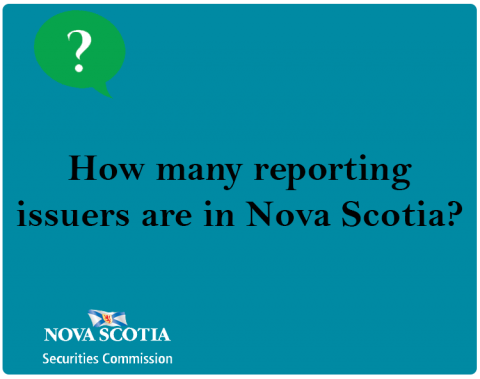 The Commission occasionally gets inquiries about Nova Scotia based reporting issuers. To help people looking for information on the number of Nova Scotia reporting issuers and what they are, we've created this post.
Before getting to the most recent list of Nova Scotia reporting issuers, lets look at what makes a reporting issuer specifically a Nova Scotia reporting issuer. To become a reporting issuer a company must have outstanding securities, or proposes to issue securities, and has filed a final prospectus for which a receipt has been issued. To be a Nova Scotia based reporting issuer this receipt must be issued by the Nova Scotia Securities Commission and the company's head office or principal place of business must be located in Nova Scotia. However, there are exceptions, where a company located in Nova Scotia has it's primary business in another province of Canada.
Currently (as of March 23, 2021), there are 33 reporting issuers where Nova Scotia is the principal securities regulator. Most of these issuers are listed on an exchange, including the Toronto Stock Exchange, the TSX Venture Exchange and the Canadian Securities Exchange.
A few of the Nova Scotia reporting issuers are unlisted. This means they either do not trade their securities on an exchange, or issue securities to institutional investors and are guaranteed by the parent company who is a reporting issuer. For example, corporate bonds, medium term notes or debentures may be issued under a prospectus and are sold to investment funds. Because the securities do not trade on an exchange, it may be difficult to resell these securities.
Here is the list of current Nova Scotia reporting issuers. It will be updated as necessary and date stamped with its last updated here (March 23, 2021). To see if a reporting issuer is in good standing please see our full reporting issuer list.
| | | | | | | |
| --- | --- | --- | --- | --- | --- | --- |
|   | Nova Scotia Reporting Issuers | Type | Stock Symbol | Y/E |   | Exchange |
| 1 | Antler Gold Inc. |   | ANTL | 31-Dec |   | TSXV |
| 2 | Appili Therapeutics Inc. |   | APLI | 31-Mar |   | TSX |
| 3 | Atlantic Industrial Minerals Incorporated |   | ANL.H | 28-Feb |   | TSXV |
| 4 | Battery Road Capital Corp. | CPC | BTRY.P | 30-Apr |   | TSXV |
| 5 | Buchans Resources Limited | Unlisted |   | 31-Dec |   |   |
| 6 | Canadian Manganese Company Inc | Unlisted |   | 31-Dec |   |   |
| 7 | Chorus Aviation Inc. |   | CHR | 31-Dec |   | TSX |
| 8 | Clarke Inc. |   | CKI | 31-Dec |   | TSX |
| 9 | Crombie Real Estate Investment Trust |   | CRR.UN | 31-Dec |   | TSX |
| 10 | Emera Incorporated |   | EMA | 31-Dec |   | TSX |
| 11 | Empire Company Limited |   | EMP.A | 30-Apr |   | TSX |
| 12 | Erdene Resource Development Corporation |   | ERD | 31-Dec |   | TSX |
| 13 | Elcora Advanced Materials Corp. |   | ERA | 31-Mar |   | TSXV |
| 14 | Fortune Bay Corp. |   | FOR | 31-Dec |   | TSXV |
| 15 | GoGold Resources Inc.  |   | GGD | 30-Sep |   | TSX |
| 16 | High Liner Foods Incorporated |   | HLF | 31-Dec |   | TSX |
| 17 | IMV Inc. |   | IMV | 31-Dec |   | TSX |
| 18 | Killam Apartment Real Estate Investment Trust |   | KMP.UN | 31-Dec |   | TSX |
| 19 | kneat.com, inc. |   | KSI | 31-Dec |   | TSXV |
| 20 | MedMira Inc. |   | MIR | 31-Jul |   | TSXV |
| 21 | Morien Resources Corp. |   | MOX | 31-Dec |   | TSXV |
| 22 | Namibia Critical Metals Inc. |   | NMI | 30-Nov |   | TSXV |
| 23 | Nobelium Tech Corp. | CPC | NBL.H | 31-Jan |   | TSXV |
| 24 | Nova Leap Health Corp. |   | NLH | 31-Dec |   | TSXV |
| 25 | Nova Scotia Power Incorporated | Unlisted |   | 31-Dec |   |   |
| 26 | Silver Tiger Metals Inc. |   | OCN | 31-Mar |   | TSXV |
| 27 | Silver Spruce Resources Inc. |   | SSE | 31-Oct |   | TSXV |
| 28 | Sobeys Inc. | Unlisted |   | 30-Apr |   |   |
| 29 | Sona Nanotech Inc. |   | SONA | 31-Oct |   | CSE |
| 30 | Ucore Rare Metals Inc. |   | UCU | 31-Dec |   | TSXV |
| 31 | ViveRE Communities Inc. |   | VCOM | 31-Dec |   | TSXV |
| 32 | WildBrain Ltd. |   | WILD | 30-Jun |   | TSX |
| 33 | Zephyr Minerals Ltd. |   | ZFR | 31-Dec |   | TSXV |