Submitted by nsscadmin on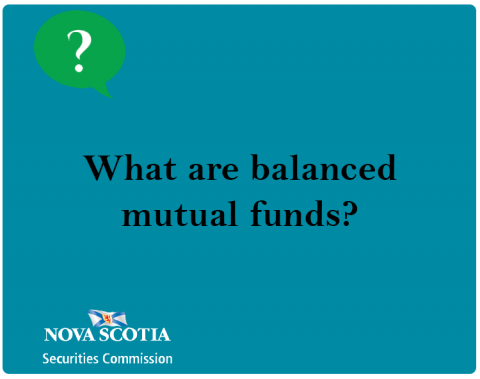 The next stop in our look at different types of mutual funds are balanced funds.
Balanced funds invest in a mix of fixed income securities and stocks. The balance of this mix could be more fixed income or more stocks. The balance depends how aggressively an investor wants to invest which can be determined by looking at their risk tolerance, financial goals, and other parts of their KYC information.  A more aggressive balanced fund would hold more stocks, while a more conservative balanced fund would have more fixed income securities.
The goal of balanced funds it to try and balance obtaining higher returns against the risks of losing money.
When it comes to risk, balanced funds tend to have higher risk than fixed income funds and lower risk than equity funds.
If you are thinking of investing in balanced funds be sure you know your risk tolerance and stick to it.
The Nova Scotia Securities Commission does not provide investment advice. We are not advising or recommending that investors purchase the mutual funds in our posts. The posts are simply to educate investors so they can be an informed investor when making investment decisions.