Submitted by nsscadmin on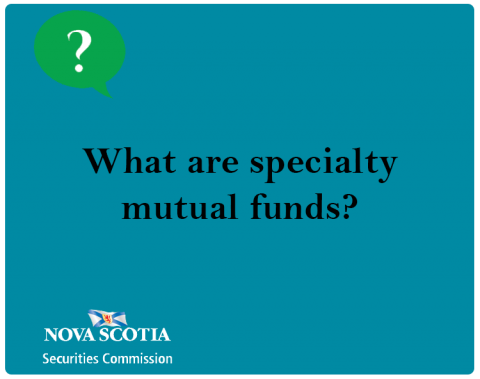 Our look at different types of mutual funds continues today with specialty funds.
The term specialty funds can encompass many different funds, but typically they are less about diversification and more about investing in a specific sector of the economy or in a specialized way.
For example, a specialty fund could allow an investor to target a specific sector such as technology, health care, energy, or even the marijuana industry in Canada. Investing in a sector specific specialty fund can often be highly risky because a major disruption in the sector could cause a dramatic loss within the fund.
Another example of a specialty fund is socially responsible funds. In recent years socially responsible investing has grown in popularity as many investors prefer to invest in companies that value the environment, human rights and diversity, while moving away from companies that are involved in fossil fuels, scandals, or worker's rights.
If you're interested in investing in specialty funds be sure to do your due diligence and make sure you can handle the higher risk and potential higher volatility.
The Nova Scotia Securities Commission does not provide investment advice. We are not advising or recommending that investors purchase the mutual funds in our posts. The posts are simply to educate investors so they can be an informed investor when making investment decisions.