Submitted by nsscadmin on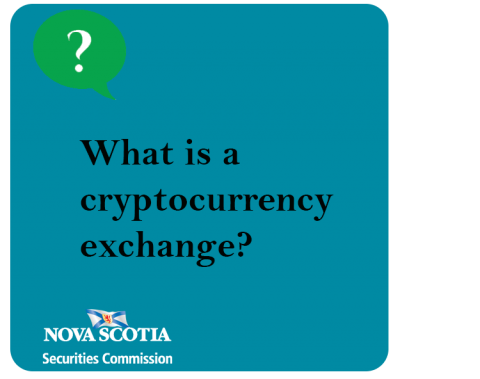 Cryptocurrency exchanges are also known as Cryptocurrency trading platforms. They are becoming increasingly popular and the number of online platforms have exploded over the last year. You may have seen commercials, online ads or print ads for exchanges like Coinsquare, Coinbase and Coinmama.
These and other cryptocurrency exchanges allow people to buy, sell or exchange different types of cryptocurrencies, such as Bitcoin, Ethereum and Ripple. These cryptocurrencies can be exchanged for other cryptocurrencies or conventional currencies such as Canadian or American dollars.
Not all platforms are created equal. Buying, selling or exchanging cryptocurrency typically comes with a fee, which varies from platform to platform. Some platforms offer different types of cryptocurrencies and different forms of trading. This could include operating like a traditional exchange where buyers and sellers trade based on the current market price of cryptocurrencies, or a broker-type exchange where cryptocurrencies are traded at a price set by the broker.
Being online, these platforms can be based anywhere around the world, offering trading services to anyone. For example, Coinbase is based in San Francisco, Coinsquare in Toronto, and Coinmama in Slovakia. 
Using cryptocurrency exchanges can be highly risky. Since they are based around the world they are highly susceptible to fraud and market manipulation. The platforms are not subject to the same regulations, compliance and oversight as traditional exchanges such as the TSX or NYSE.
In the past cryptocurrency exchanges have also been targets for hackers, who have stolen billions of dollars in crypto assets. Arguably the most famous cryptocurrency exchange hack was the Mt. Gox hack in 2014. Prior to the hack, Mt. Gox was the largest Bitcoin exchange on the planet. That all changed after hackers stole 850,000 Bitcoin, valued at $450 million. Mt. Gox was forced to file for bankruptcy due to the loss.
Mt. Gox is far from the only cryptocurrency exchange to be beset by hackers, with just a few other hack examples including NiceHash, Coincheck and Bitfunder. Beyond hacking a number of other cryptocurrency exchanges have collapsed or filed for bankruptcy including Bitconnect and Youbit.
The Nova Scotia Securities Commission highly cautions any investor that is interested in speculating in cryptocurrencies on cryptocurrency exchanges. No cryptocurrency exchanges are registered with the NSSC those that offer services to Nova Scotians may be violating securities laws.
The high volatility of cryptocurrencies, security dangers, lack of regulation and oversight and increasing number of frauds and scams around cryptocurrencies, make using cryptocurrency exchanges extremely risky. The NSSC recommends anyone using or thinking of using a cryptocurrency exchange to do their homework, and most importantly never invest more than you can afford to lose.