Submitted by nsscadmin on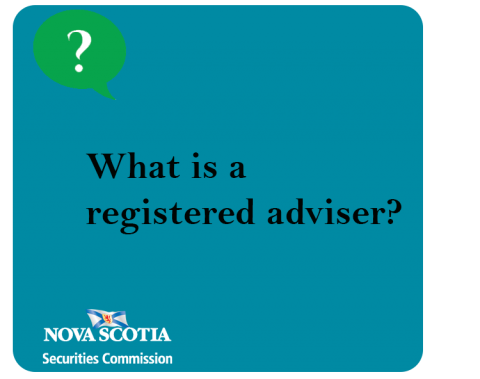 When the Nova Scotia Securities Commission is delivering investor education presentations, seminars or tutorials one of the first things were always tell people is to check the registration of their investment adviser. We've been getting a few questions about advisers lately, including what exactly is registration? We're always telling you to check registration, but what does it mean for an adviser to be registered?
Before we get into the full details we'll remind you again that "In Canada, anyone trading securities or in the business of advising clients on securities must be registered with their provincial or territorial regulator." Of course, in Nova Scotia that means they have to be registered with us, the Nova Scotia Securities Commission.
When an individual comes to NSSC to become registered they have to fill out Registration Form 33-1094. We've provided a link to the form, but to sum things up what we're really looking at when someone applies for registration is their proficiency, their integrity and their solvency.
From that trio, proficiency is the easiest to determine and measure. To be registered, an applicant must pass specific training courses and exams. Depending on what they want to register as that list of courses and exams they must pass is different. Here are a couple examples.
If an applicant wants to register as a mutual fund dealer, they must pass one of the following:
- Canadian Investment Funds Course exam
- Canadian Securities Course exam
- Investment Funds in Canada Course exam
- or they must have earned a CFA Charter and gained 12 month of relevant securities industry experience in the 36-month period before applying for registration.
If an applicant wants to register as a Portfolio Manager – advising representative, they must have:
- Level 1 of the Chartered Financial Analyst program and has gained 24 months of relevant investment management experience.
- Or has received the Canadian Investment Manager designation and has gained 24 months of relevant investment management experience.
For a full list of proficiency requirements for all types of registration click here.
Proving an applicant's integrity and solvency isn't as easy as taking a course or writing an exam. This is where Registration Form 33-1094 comes in again. Along with basic personal and background information, as well as how the applicant meets the proficiency requirements, the form requires the applicant to disclose information necessary to gauge their integrity and solvency.
Applicants must provide full criminal disclosure and disclose any criminal offences they have committed. This includes any outstanding or stayed charges currently against them, and any charge to which they were found or pled guilty. Applicants must also disclose any current or past civil proceedings filed against them.
To help gauge an applicant's solvency they must fully disclose their employment history, including any jobs where they were resigned, terminated or dismissed and the reasoning behind this. A full financial disclosure must also be made outlining any bankruptcies, debt obligations, garnishments, unsatisfied judgements, and directions to pay.
After filing Form 33-1094 and making all necessary disclosures the application is reviewed by the Deputy Director of Capital Markets. Each application for registration is handled on a case by case basis. If they meet all requirements and are found to meet the required levels of integrity and solvency their registration is approved and they are added to the National Registration Search (NRS).
If an adviser does not appear in the NRS that means they are not registered with the commission and not authorized to trade or advise on securities in Nova Scotia. Registration is an important factor is determining the suitability and standards of your adviser. As we've said before, when dealing with anyone selling securities or providing advice on securities, always check registration.