Submitted by nsscadmin on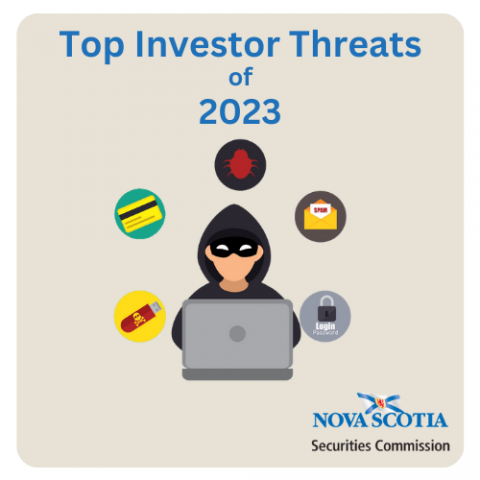 Today the Nova Scotia Securities Commission is issuing its annual list of top investor threats. You can find the 2022 list here. The threats we issued last year remain and could have made the list again this year, so investors should still be aware of them and be cautious.
Here are the Commission Top 3 investor threats for 2023
The Commission's top investor threat for 2023 is Pig Butchering Crypto Asset Scams. The Commission was so worried about this scam and the harm it has already caused and continues to cause Nova Scotia residents that it issued an investor alert in January.
At the time of the alert Nova Scotia residents that had contacted the Commission about the scam had lost more than $750,000 combined. Since the alert was issued that total has surpassed $1 million, and as this only includes losses that have been reported to the Commission, we believe that number is much larger. The FBI estimates these types of scams are responsible for billions of dollars in losses in the past year.  
To protect yourself from this scam, if you are sent an unsolicited message from someone you don't know by text, or a messaging app be aware that the person contacting you may be trying to scam you. Be cautious of any ads you see online or through social media for crypto trading platforms. If you want to trade or purchase crypto assets use a Canadian registered crypto trading platform. A list of registered crypto trading platforms can be found on our website.
Our number two investor threat for 2023 is fake offshore foreign exchange (Forex) trading platforms.
The Commission issued a warning about forex-related scams in 2020. Forex scams remain highly prevalent and are responsible for large investor losses. Investors can legitimately invest in Forex, but it is highly complex and extremely volatile and risky. Scammers are using this complexity and volatility to entice investors into investing in their fake trading platforms.
Some of the warning signs that a Forex investment may be fraudulent include:
·        
A guarantee of little or no risk, and high investment returns;
·        
dealers or brokers that are not registered with a provincial or territorial securities regulator, and are based outside Canada where it can be difficult or impossible to retrieve funds;
·        
an unwillingness to discuss the past performance or track record of the specialist trader who is handling their money;
·        
an unwillingness to identify specialist traders or traders located in offshore jurisdictions who will handle their money; and
·        
high-pressure sales tactics to buy a Forex investment, to purchase software or take courses related to Forex trading.
Our number three investor threat for 2023 is investment advertisements on social media and unregistered investing/trading apps
Just because an investment ad has been authorized by a social media platform or website does not mean the person or entity placing that ad is legitimate, registered, or even exists. This goes for ads for stock trading, Forex, and crypto assets trading. Several people in and outside Nova Scotia have been scammed by fake investing ads on social media sites.
The same warning applies to investing apps. Just because an app for trading in securities or crypto appears in an app store does not mean the person or entity running the app and the trading is registered, legitimate and legal. You should always check the registration of anyone that is offering investments or trading services.