Submitted by nsscadmin on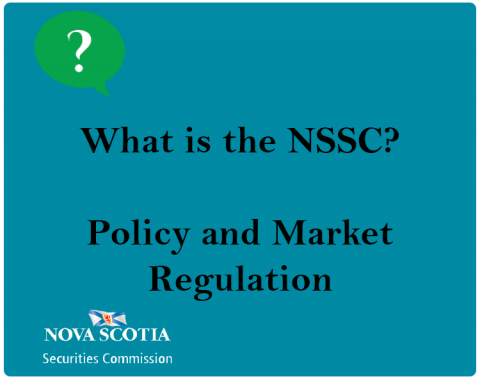 Policy and Market Regulation oversees several aspects of securities regulation.
First, they oversee the development of all legislation, rules and policies related to securities and derivatives in Nova Scotia. Securities laws in Nova Scotia are comprised of these rules, regulations, policies, orders, and the Securities Act of Nova Scotia. Notices and amendments that make changes to securities laws are posted to the Commission website.
Second, they oversee the registration of all dealers, advisers, and investment fund managers in the province. Did you know that anyone advising on or selling securities in Nova Scotia must be registered with the Commission unless an exemption applies? You can always check registration by using the national registration search database.
Third, they oversee compliance activities of all firms and individuals registered as dealers, advisers, and investment fund managers. The Commission conducts compliance reviews of these firms to ensure they are continually abiding by securities laws.