Submitted by nsscadmin on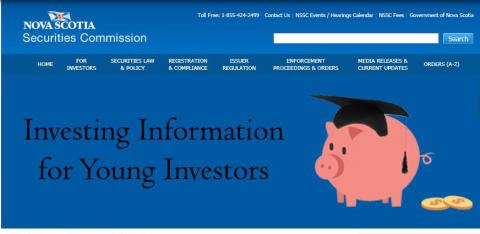 School is back in session, and the Nova Scotia Securities Commission is ready to teach young people about investing. This month we're launching a new web page on our website with information for young investors.
This new page, which can be found at nssc.novascotia.ca/younginvestors, is loaded with information for young people that are just getting started on their investing journey and have plenty of questions.
Are you looking for information on basic investments, cryptocurrency, and RESPs? Maybe you're confused about what investing is, or why you should invest in the first place? Do you know about financial advisers and robo-advisers? Maybe you're interested in learning more about RRSP and TFSA accounts? Our new web page has information on all these topics and more.
Along with the new web page, we're also debuting three new investor education videos aimed specifically at young investors. Our three-part young investors series includes:
If there is more content you'd like to see on our new page or a question you have that's not answered, let us know.