Submitted by nsscadmin on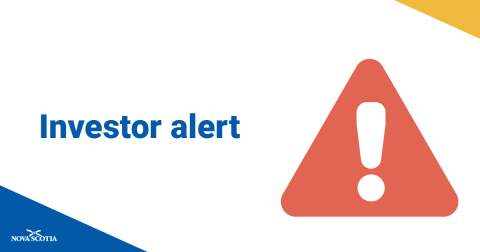 Part of the Nova Scotia Securities Commission mandate is to protect Nova Scotia investors. One of the ways we do that is by issuing investor alerts and cautions. You can find all the alerts we've issued for the last seven years on our Investor Alert Database.
To try and spread further awareness about alerts issued by the Commission and other securities regulators, our Before you Invest Blog does regular reviews of alerts throughout the year. This review will look at all alerts and cautions issued since August.
August 22, 2023 - NASAA - Informed Investor Advisory: Other People's Money Investment Scams
>Securities regulators have seen a rise in schemes where scammers target victims with the promise of making big returns by trading "other people's money." This frequently occurs online, with the scammer posting an investment opportunity on a social media platform or reaching out to unwitting recipients via a messaging application (such as WhatsApp). Investors should be cautious when approached with unsolicited investment opportunities from strangers.
August 29, 2023 – NASAA - Informed Investor Advisory: Will the Real Adviser or Broker Please Stand Up?
Scammers will go to any length to steal your money and personal information, including using technology and publicly available information to impersonate someone else. By taking information from a public database of brokers and investment advisers, a scammer could pretend to be a legitimate investment professional, earn your trust, and steal your identity or convince you to send them money. A little bit of research can prevent you from falling for their schemes.
Investor Cautions are warnings to potential investors that the individuals or entities named do not appear to be registered to engage in the business of offering securities or derivatives in Nova Scotia or that the investment products do not appear to be offered in a manner permitted by Nova Scotia securities laws. Visit our Investor Cautions List for more information on the entities listed below.
August 17 – Imperial Invest
August 17 – MEXC
August 24 – Prime Assets Mine/PrimeAssetsMine
October 20 - CapitalsWise