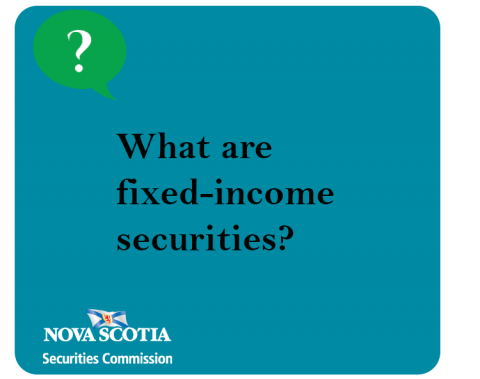 The list of fixed-income securities available to Canadians got a little shorter last month when the new Federal budget did away with Canada Savings Bonds. If you're old enough to have been given Canada Savings Bonds by your grandmother like us, you may already have an idea what a fixed-income security is.
By definition a fixed-income security is…
A loan to a company or government for a certain period of time. In return, they promise to pay you a fixed rate of interest at certain times, and to repay the face value at the end of the loan's term, known as the maturity date.
Most fixed-income securities come with a guarantee making them a relatively less risky investment compared to a common share. However, this safe aspect and lowered risk also means that fixed-income securities have a lower return.
The most common fixed-income security are bonds. A bond is a loan made to a government or company that is secured by the government's treasury and ability to tax, or by a company's assets. The term on most bonds range from one year to 30 years before maturity. Interest is typically paid at a fixed rate that is set when the bond is issued. The rate typically depends on interest rates and the credit rating of the issuer. For example, the rate would be higher if there is a greater risk the issuer may default on the payments, that is it cannot make the promised payments.
If a company were to dissolve bond holders do have a right to a portion of the company's remaining assets. However, that right comes after the rights of tax authorities, employees and creditors, but ahead of shareholders.
Guaranteed Investment Certificates, or GICs are another popular form of fixed-income securities. A GIC is a note issued by a bank, credit union, or trust company with a fixed yield and term.  The term typically ranges from as short as one month to as long as 10 years. As their names says GICs are guaranteed by the issuer, but most must be held for the entire term before being cashed in.
Mortgage-backed securities, or MBS, is a type of fixed-income security, issued by a trust or other special purpose vehicle, that gives the investor an ownership interest in a payments due from a pool of mortgages. A MBS also comes with a fixed term, typically from one to 10 years. It offers a fixed rate of return which is paid out in monthly income payments. These payments are made up of a share of the interest and principal payments from the mortgages in the pool.