Submitted by nsscadmin on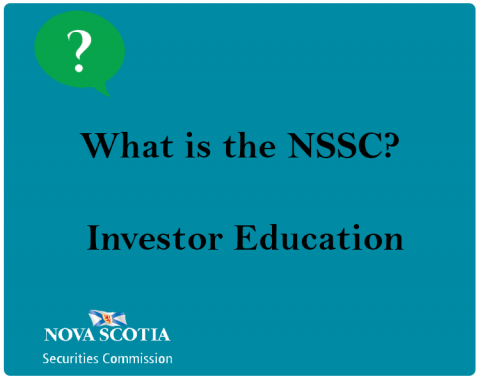 We're entering the dog days of summer, so it's likely best not to hit our readers with anything too heavy right now. So instead of delving into complicated investments, we'd like to reintroduce ourselves. You may know that the Nova Scotia Securities Commission regulates securities and derivatives in the province of Nova Scotia, but do you know how the Commission is structured and the functions of each branch? During the month of August, we'll look at the branches of the Commission and what they do. Here's a look at what's to come:
August 3 – Investor Education
August 10 – Policy and Market Regulation
August 17 – Corporate Finance
August 24 – Enforcement
Today we're starting out with investor education (IE). One of the Commission's mandates is to provide investor education resources to Nova Scotians to help them make informed investment decisions. Our IE office developments and implements all investor education campaigns and content. This includes:
presentations to groups of all ages, delivered in-person and online

print content in the form of brochures, information sheets, blogs

infographics and images shared through the Commission website and social media channels

investor education videos

partnerships with financial literacy organizations
If you're looking for investor education resources check out the Commission's Investor Education Resources Page, Before You Invest Blog, YouTube Channel, and Twitter and Facebook feeds.
To inquire about a presentation from the IE office or other IE content or inquiries contact David Harrison, Manager of Investor Education – David.harrison@novascotia.ca