Submitted by nsscadmin on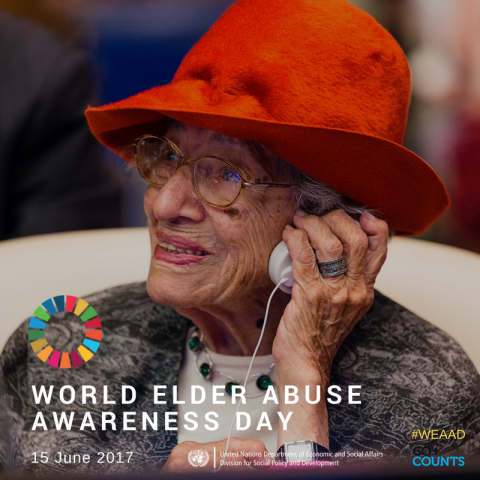 First observed by the United Nations in 2012, World Elder Abuse Awareness Day recognizes that nearly every country across the globe will see a substantial growth in the number of older persons in the next decade. With the population of older persons increasing it unfortunately also leads to an increase in the amount of elder abuse.
Nova Scotia is already seeing its population get older at an alarming rate. In the latest census, Nova Scotia was found to have one of the oldest population in Canada. For the first time the population of people in Nova Scotia aged 65 and over (183,820) has eclipsed the population of those in the province aged 14 and under (133,825).
This year for World Elder Abuse Awareness Day the UN has chosen as its theme "the importance of prevention financial exploitation in the context of elder abuse to the enjoyment of older person's human rights." They specifically note that "older people have the right to a life of dignity in old age, free of all forms of abuse, including financial and material exploitation, which could lead to poverty, hunger, homelessness, compromised health and well-being, and even premature mortality."
Many scam artists and fraudsters specifically target older adults. As many older adults get closer to retirement age they become targets for scam artists for many reasons. First and foremost, they are targeted because they routinely have at least a bit of a nest egg squirreled away that scam artists can prey on. The also prey on many older adults fears that they won't have enough money to retire or upon their dreams of a better retirement to get them interested in "the next big thing" or "can't miss investment."
Some of the more common types of investment frauds include….
Affinity Fraud
Offshore Investment & Pension/Retirement Scams
Investment Seminar Scams
Boiler Rooms
Ponzi Schemes
The best way to defend yourself against investment fraud, no matter how old you are, is to become an informed investor. Make sure you know the warning signs of investment fraud. Know what to look for in a financial adviser. And, whenever you're dealing with someone trying to sell you investments, always check their registration.